Eradicating Homophobic Legislation in the Caribbean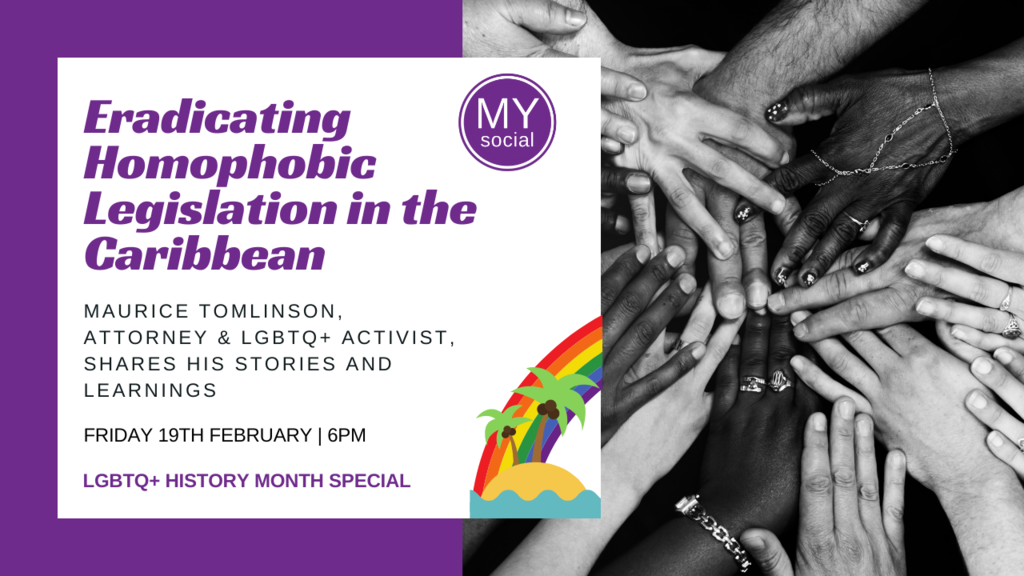 Friday, 19 February 2021

6:00pm - 7:00pm

Online - Zoom
About
MYsocial have partnered with Lambeth Libraries to bring you a variety of online events for LGBTQ+ History Month.

Join MYsocial host Dirg and special guest Maurice Tomlinson, attorney from the HIV Legal Network and LGBTQ+ activist, who is a key influencer in changing homophobic legislation in the Caribbean. In today's event, Maurice will share his stories and what he has learned.


This event is part of Lambeth Libraries LGBTQ+ History Month programme of events. It is open to the general public as well as MYsocial members.

To make sure you don't miss out you must sign up by midnight on Thursday 18th February. Once you have signed up you will be sent the zoom link and meeting details on the morning of the event.


Need some help using Zoom?
If you are new to Zoom and would like some help joining a meeting or simply just need a little more guidance, you can download our Zoom Guides or book a one-to-one Zoom School session here: https://mysocial.london/joining-our-online-events/.

About Maurice
Maurice is a Jamaican attorney based in Canada who works to challenge anti-LGBT laws and attitudes across the Caribbean. Maurice is the founder of Montego Bay Pride, which has held the only 2 public Pride marches on the island since 2019. Maurice has also conducted LGBT sensitivity training for police services in seven Caribbean countries, and has coordinated the two "Intimate Conviction" conferences, the only global convenings on the role of the church in ending anti-sodomy laws across the Commonwealth. Maurice has also challenged anti-GBT laws before the most senior tribunals across the Caribbean including an appeal currently before the UK-based Privy Council, which is Jamaica's final appeal court. This ground-breaking case challenges a ban by Jamaican TV stations ban on airing an LGBT positive ad and will be the first LGBT case that the Privy Council will hear from the Commonwealth Caribbean. The decision will therefore set precedent for the seven other Caribbean countries that still use the Privy Council.
Info This event has now passed.